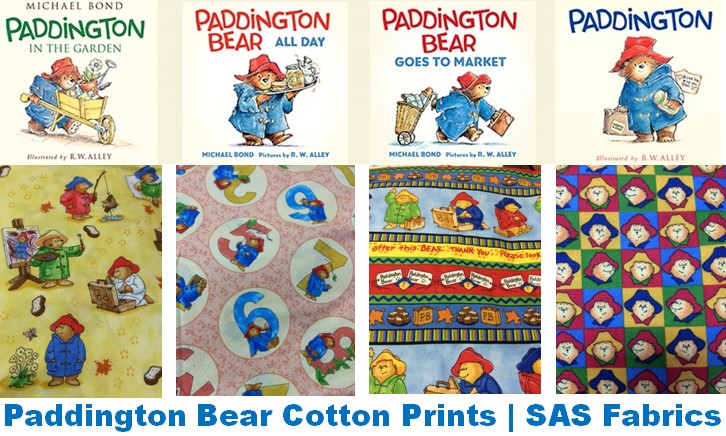 SAS Fabrics carries a huge selection of Paddington Bear cotton prints. Your children will love to be enwrapped in all things Paddington Bear – pillows, curtains, outfits, crafts. Make them something special because who can get enough of that cute and famous Peruvian Paddington Bear!
Do you remember that series of beloved children's books beginning with written by Michael Bond? It's now a major motion picture from the producer of Harry Potter, David Heyman, starring celebrities like Nicole Kidman and Hugh Bonneville, and more.
"A Bear Called Paddington has been in print uninterruptedly since its first release, and over 150 other titles have been released starring the iconic bear, including board books that are aimed at the very young reader. Playful mischief ensues in every tale. Each book embeds traditional British values, has a delightful charm and wit, and I feel is as enchanting today as when it was first penned. They have also been translated in to over forty different languages and Paddington Bear is popular all over the world, making Michael Bond one of the most successful children's authors of all time.
The highly successful series of Paddington books are written by Michael Bond. As Michael often tells it, it was on a chilly Christmas Eve in 1956 when he noted a lone teddy bear in Selfridges near Paddington Station. (Paddington station is a central London railway terminus and London Underground station complex.)
The bear caught his eye and he purchased it as a present for his wife, naming it Paddington. The bear also triggered Michael's imagination and ten days later he finished the first story based on the bear. That book- A Bear Called Paddington– was released by Williams Collins & Sons on October 13th in 1958. And thus, Paddington Bear was born."
Excerpt from: http://www.smittenbybritain.com/paddington-bear-the-story-of-the-worlds-most-lovable-bear/